Whole Grain Pancakes (optional vegan)
April 17, 2012 in recipes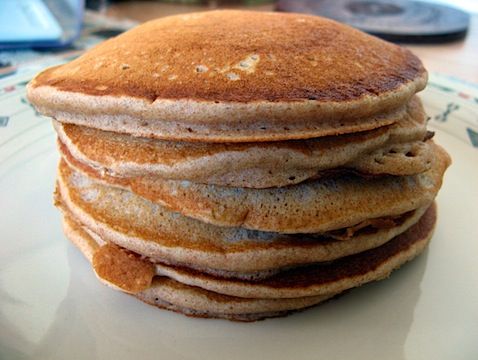 This is an easy and healthy pancake recipe that makes deliciously fluffy pancakes! Makes about 6 medium pancakes so you may want to double it.
Ingredients
1 cup whole wheat flour
1/2 cup quick-cooking oats, uncooked
2 teaspoon baking powder
1 tbsp sugar
1/2 teaspoon salt
1 1/4 cup soy milk
1 egg/egg replacer (vegan option)
2 tbsp cinnamon
1 1/2 tsp vanilla extract
*If you want the maple syrup taste but don't want all the sugar, you can add maple extract to the batter! It's really good!
Directions
In a large bowl combine four, oats, baking powder, and salt. Add soy milk, egg/egg replacer, and remaining ingredients. Mix well.
Spray nonstick skillet with cooking spray; heat on medium 1 minute. Pour batter by 1/4 cup onto skillet. Cook until tops are bubbly and edges look dry. With spatula, turn pancakes and cook until undersides are golden. Transfer pancakes to plate.
Repeat with remaining batter, using more nonstick cooking spray if necessary.
Chocolate Jam Spread
I have this absolutely delicious and healthy jam type spread that I always use on my pancakes. I was experimenting and came up with it. This is for a single serving.
Ingredients
2 tbsp of jam (I use E.D. Smith's jam from Costco. It's so yummy and has no sugar added, with only 25 calories per tbsp.)
1 tbsp of cocoa powder
1 tsp cinnamon
1-2 tbsp soy milk depending on the consistency you want
Directions
Mix ingredients well in a small bowl until bits of cocoa powder no longer appear. Top on pancakes and enjoy. Great with sliced bananas as well!